NOTABLE RECENT CURRENT AND FUTURE DEVELOPMENTS: 2022 EDITION
Vantage North by Van Trust Industrial Complex
Intermountain Health Raiders Training Facility
St Rose Parkway Growth / The Village
South Las Vegas Apartment Boom
UNLV School of Medicine
Arguably one of the most important programs and / or complexes towards Southern Nevada's rapid movements towards a diverse economy, the UNLV School of Medicine was founded in 2017 with the mission of creating doctors and a world class research environment which will help to address the shortage of medical professionals long plaguing the region. The campus as of 1Q 2022 is under construction on a 9-acre parcel in the growing Downtown Las Vegas area known as the Medical District.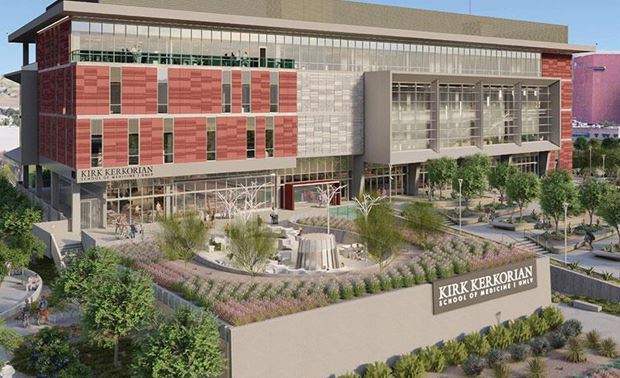 Vantage North by Van Trust Industrial Complex
Developer Van Trust is building a 350 Acre logistics and distribution park in North las Vegas. The complex will be developed in phases and will encompass over 4.6 Million square feet of industrial space; a large addition to the rapidly growing North Las Vegas Interstate 15 corridor.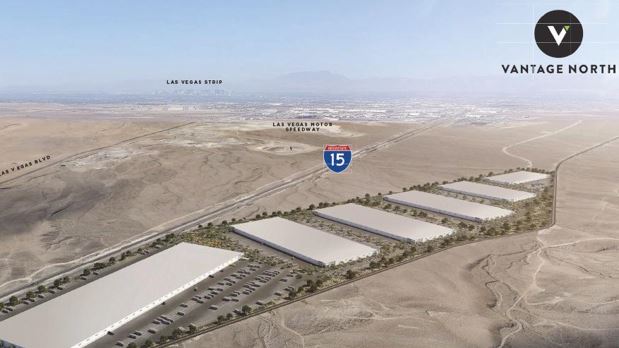 Interstate 11
The federal government, in association with the state governments of Nevada and Arizona, has completed a large section of the future Interstate 11 corridor in southern Nevada, near Boulder City, and around the Lake Mead Recreational Area. The future completed I-11 corridor will be a major boon to the towns and cities in between Las Vegas and Phoenix, and enable much greater (and safer) connectivity between the two metros.
The The I-11 Corridor is envisioned as a new major north-south multimodal corridor that will provide enhanced transportation mobility and goods movement while creating a foundation for robust economic vitality for the region. The process began in 2012, when the U.S. Congress identified US 93 from Phoenix, Arizona to Las Vegas, Nevada as a high Priority Corridor as part of the Moving Ahead for Progress Act (MAP-21) and designated it as the future I-11 Corridor. The I-11 Corridor through the Las Vegas metropolitan area has numerous benefits including providing enhanced connectivity and goods movement via a multimodal passage, improving mobility, and supporting economic vitality. The purpose and need of this project will continue to evolve and develop as public participation, stakeholder engagement, and agency partner feedback progresses.
The decision process that is ongoing which is called a Planning and Environmental Linkages study will select an I-11 corridor through the Las Vegas metropolitan area, between the Henderson Interchange in the southwest part of the valley, and the vicinity of Kyle Canyon Road on US 95 in the northwest part of the valley. As of 2021, a thorough review and evaluation of initial corridor alternatives have identified a western and a central corridor alternative to be advanced for further study.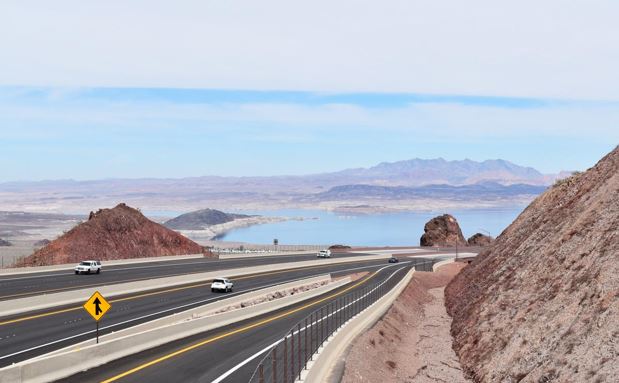 PROJECT NEON (I-15)
Nearly two decades in the making, Project Neon recently was the largest public works project in Nevada history. Completed in 2021, Project NEON widened 3.7 miles of Interstate 15 between Sahara Avenue and the "Spaghetti Bowl" interchange in downtown Las Vegas. Prior to the project, it was the busiest stretch of highway in Nevada with 300,000 vehicles daily, or one-tenth of the state population, seeing 25,000 lane changes an hour. Traffic through the corridor is expected to double by 2035.
The project included an HOV direct connect between U.S. 95 and I-15, Conversion of express lanes on I-15 to HOV lanes, a new I-15 HOV interchange, a "Neon Gateway" reconstruction of the Charleston boulevard interchange, a MLK Boulevard realignment with a flyover at Charleston and Grand Central Parkway, creating an extension to Industrial Road, and digital information signage installation and upgrades.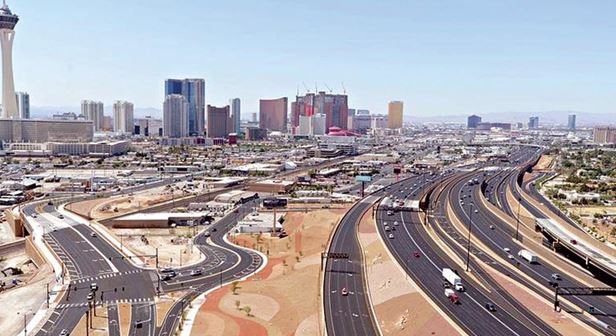 Intermountain Health Raiders Training Facility
The Intermountain Healthcare Performance Center, a 320,000-square-foot facility which was completed mid 2020 just as the pandemic hit a peak in the world, is the Raiders new training and administrative facility. This facility features indoor and outdoor practice fields, office space and a full athletic training center. Surrounding this area has been a host of development and the St. Rose Parkway corridor where this facility is located.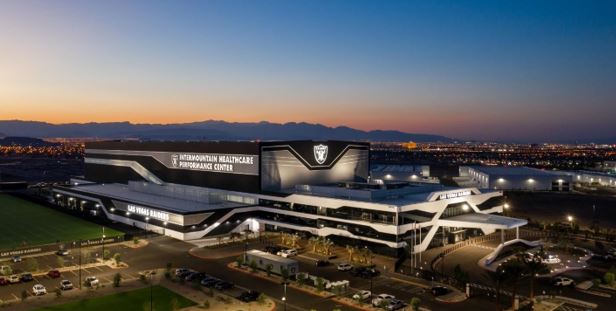 Union Village
From Newport Beach, CA based Gary Holland & Craig Johnson, the concept has been produced before elsewhere. Union Village attempts to be a planned community in Henderson east of U.S. 95 near the Central Church complex. The area is already home to Henderson Hospital and an upscale apartment complex called The Well, which has about 400 units.
In the coming months and years, plans are for the sprawling 155-acre, $1.2 billion development to include a 14,000-square-foot dialysis clinic, a memory and dementia care "village," a hotel, a 300-unit condominium build-out, an additional condo project, a promenade, restaurants and other retail spaces, more apartments (including senior-living units), and a new 95,000-square-foot Las Vegas Athletic Club facility. (From the Las Vegas Sun)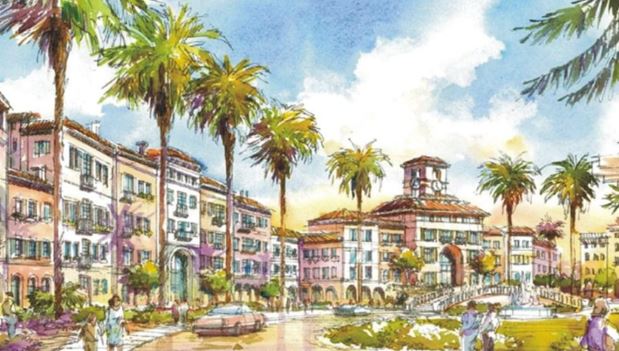 Haas Automation Facility
Haas Automation, a premier manufacturer of CNC automation machines based in Oxnard California, is expanding to Henderson. Hass Automation purchased 279 acres just south of the Henderson Executive Airport, just west of the Inspirada housing development.
The site is currently undergoing earthwork, and construction is set to be completed in 2023, pending certain pandemic-related supply delays. Haas Automation sells products in more than 100 countries through dozens of distributors and booked more than $1.2 billion in sales last year, its owner wrote in a January 2019 letter to the city of Henderson.
The plans state they will be building 4.3 million sq ft of commercial space which would include a 2.3 million sq ft manufacturing plant and other buildings that would be sold or leased to other companies.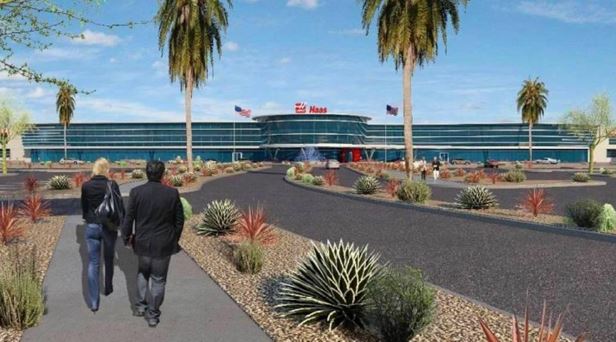 UNCommons
The $400 Million mixed-use development by San Diego based developer Matter, calls for office space, retail and apartments on 40 acres at Durango Drive and the 215 Beltway in the southwest valley, near Ikea. The first phase is slated to open in early 2022.
UnCommons promises a pedestrian-friendly campus with restaurants, a food hall, fitness studios and other amenities. Office tenants signed to the property include Sotheby's International Realty, BDO, Draft Kings, and Morgan Stanley.
UnCommons claims to have pledged to be a WELL-certified building project, the first of its kind in Nevada, from the International Well Building Institute, an accreditation body.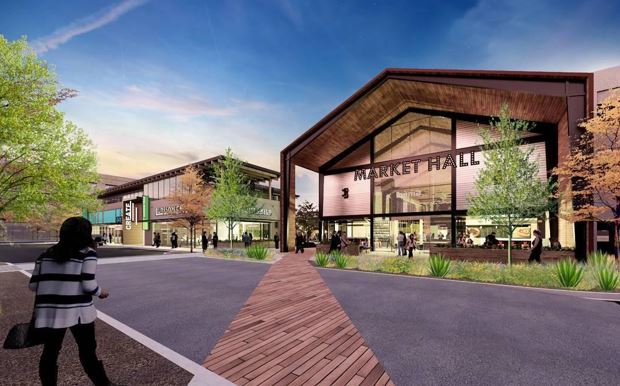 The Bend
From prolific developer J. Dapper, the Bend will be the largest dining, entertainment and shopping destination in the Southwest area of the valley. Since it was announced, The Bend has signed the first new Galaxy Theater Luxury in Southern Nevada, in addition to many dining establishments, including Lotus of Siam, Freed's Dessert Shop, The Great Greek, Aces & Ales Brewery and many more. The complex will feature 170,000 square feet in a modern design with underground parking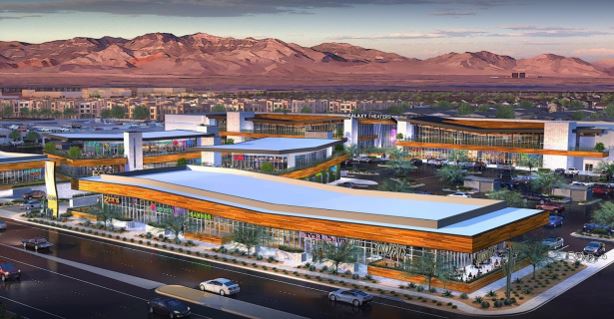 St Rose Parkway Growth / The Village
SHEQ Properties has been working on a mixed-use project in one of the the fastest growing parts of the Las Vegas Valley, West Henderson. SHEQ is developing a new 300,000-square-foot, complex, just down the street from the new Intermountain Healthcare Raiders practice facility along the growing St. Rose Parkway corridor.
The project is located on a 12.5-acre property at the cross streets of St. Rose Parkway and Seven Hills Drive. The 300,000-square-foot development will feature a mix of retail, office and medical space. Pre-leasing for the development is underway.
The Village will include two 7-story office towers with panoramic views of the Las Vegas Valley. The customizable space will feature public areas with high-end finishes and amenities. The development will be located on westbound St. Rose Parkway with easy access to St. Rose Dominican Hospital – Siena Campus, Costco, the new Raiders Headquarters and Interstate 15.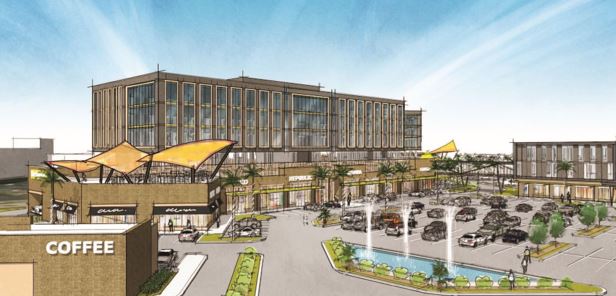 Symphony Park
Located on 61 acres in the heart of downtown Las Vegas, Symphony Park is the city of Las Vegas' premier development that is home to arts, culture, science and medicine. It offers one of the city's most exciting and prime opportunities for retail, restaurant or mixed-use development.
Adjacent to World Market Center Las Vegas and its new Expo at World Market Center, a new 315,000-square-foot exhibition facility; Las Vegas North Premium Outlets, a highly-trafficked outlet shopping mall; and Molasky Corporate Center, a Class-A LEED certified office tower, Symphony Park is centrally located with easy access to U.S. 95 and Interstate 15. More than 600 residential units are nearing completion in the 4th Quarter of 2021 with ground-floor retail opportunities in the Auric and Parc Haven developments, as well as an AC Hotel branded hospitality development.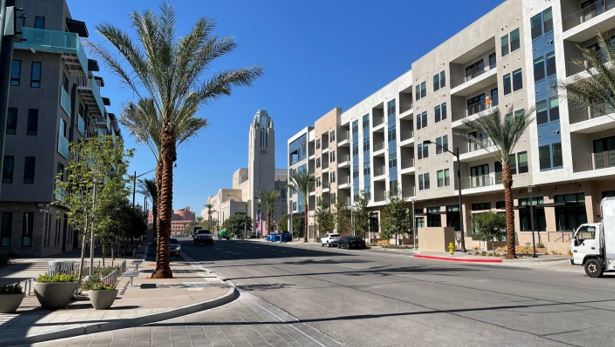 GOOGLE DATA CENTER
A $600 million Google data center opened in Henderson in December 2020. The project is expected to serve billions of users around the world, Google spokesman Andrew Silvestri said this month. Last year the Governor's Office of Economic Development approved $25.2 million of tax abatements for Design LLC, a wholly owned subsidiary of Google. The subsidiary will own the facility and is in charge of its construction, while Google will handle operations and hiring.
Inspirada
The rapidly growing neighborhood and master planned community adjacent to the Raiders Training Facility in the southern part of the Las Vegas Valley is approved for 8,500 homes over a 1,500 Acre area.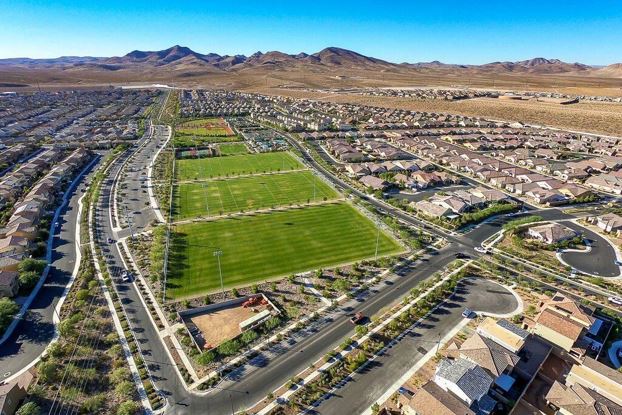 Cadence
Cadence is a large master planned community filling out a large swath of the East Henderson area. Started in 2015, this community is supposed to grow to approximately 12,000 homes via multiple homebuilders. Cadence fills out a large area of eastern Henderson that we believe will provide a big opportunity for commercial development and redevelopment along the eastern Lake Mead Boulevard corridor which is sparsely developed with service commercial buildings and largely local tenants.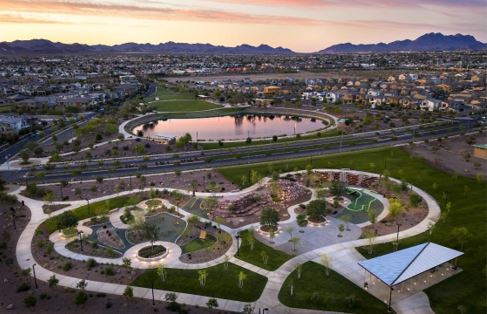 Skye Canyon
A large-scale master planned community by the same developer as the revered Southern Highlands master planned community, Olympia Companies; the community under development touts itself as "A base camp for the great outdoors, Skye Canyon is focused on health wellness, and active living all while showcasing top-of-the-line amenities and superior home offerings."
According to the community's website. Across 1,000 acres, 6,500 homes are planned and / or under construction by mid-range and luxury homebuilders. Skye Canyon, at the size it is represents a far-reaching push-out towards the far northwest limits of the Las Vegas Valley, which will provide new opportunities for commercial development and a need for more services in an entirely new part of the expanding borders of the metro.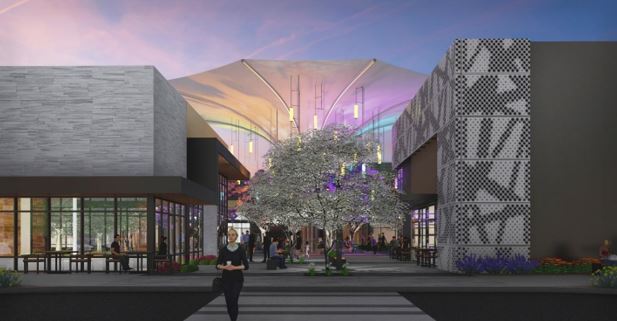 South Las Vegas Apartment Boom
To the south of the strip centered around the two new exits of Interstate 15, Starr Avenue and Cactus Avenue, comes a new cluster of ground up apartment and townhome condominium complex developments from various developers totaling nearly 2,000 units since only 2019. Kaktus Life at 210 Units, Wood Partners 228 Unit project, and Ariva by WTI Group that will feature 754 Units, and Touchstone development's Mosaic features 800 Units for sale. With this momentum in building will come an overall build up of commercial services in the area, as evidenced with new shopping centers and mixed use projects along these corridors.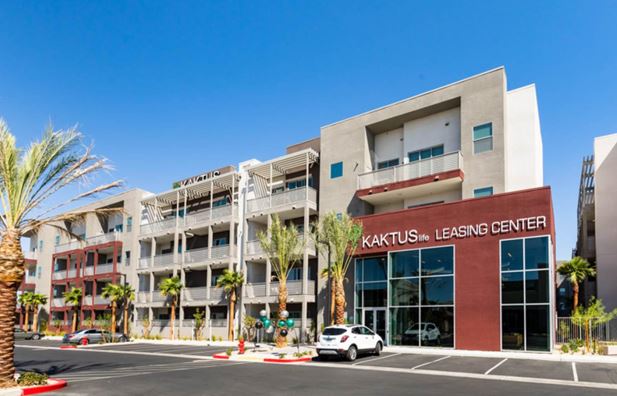 Resorts, Casinos, and Performance Venues
Stratosphere Rebrand to "The STRAT"
FONTAINEBLEAU LAS VEGAS RESORT
LAS VEGAS CONVENTION CENTER
STATION CASINOS DURANGO HOTEL
CAESARS FORUM CONFERENCE CENTER
Downtown Las Vegas Expo Center
THE ENGLISH HOTEL – ARTS DISTRICT
Stratosphere Rebrand to "The STRAT"
The new owners of Stratosphere, Golden Entertainment, recently invested $140 million in upgrades to the Las Vegas resort over the past four years. In the process, Stratosphere will began to call itself by the name most patrons already did, The STRAT.
As part of the STRAT renovation, nearly half its rooms (1,100 or so) were refreshed, the casino floor was upgraded and a new loyalty program was revealed.
The resort also received a new gastro-brewery near its sports book, as well as a new steakhouse and a bar "appealing to a younger demographic." The STRAT will also  embrace youth culture with a new casino space called Adrenaline.
Other "goes without saying" upgrades to the food & beverage program included a prominent Starbucks, and an in-house noodle bar concept.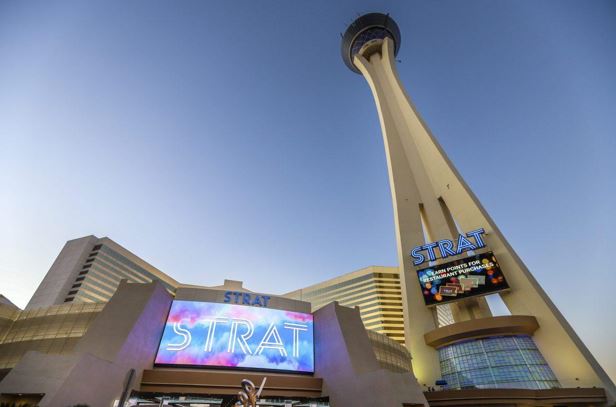 FONTAINEBLEAU LAS VEGAS RESORT
The Fontainebleau has been a storied development. Since being abandoned after the Great Recession post-2009, The mega property has changed hands multiple times with speculative investors out of the East Coast, each extracting some value from the generally rising Las Vegas market. The most recent iteration called The Drew was expected to offer 3,780 hotel rooms, over 5,550,000 square feet of convention space and a number of retail and nightlife attractions.
The group in charge of The Drew recently pulled out in 2021 and it appears that the new owners, headed by developer Jeffrey Soffer are pushing forward with finishing the project in 2022 in earnest, for a 2023 opening, under the project's original name, The Fontainebleau. In 1Q 2022, there have been test fittings with signage and newly released renderings showing a finished structure and street level signage. The Fontainebleau's immediately surrounding area has come up in value greatly recently, with the opening of the $4 Billion Resorts World complex, MGM's fairgrounds just to the northwest, a $2 Billion 2021 completed Las Vegas Convention Center expansion to the immediate south, streetscape improvements, and a rebranding and re-opening of The Sahara (formerly the SLS Hotel) to the North.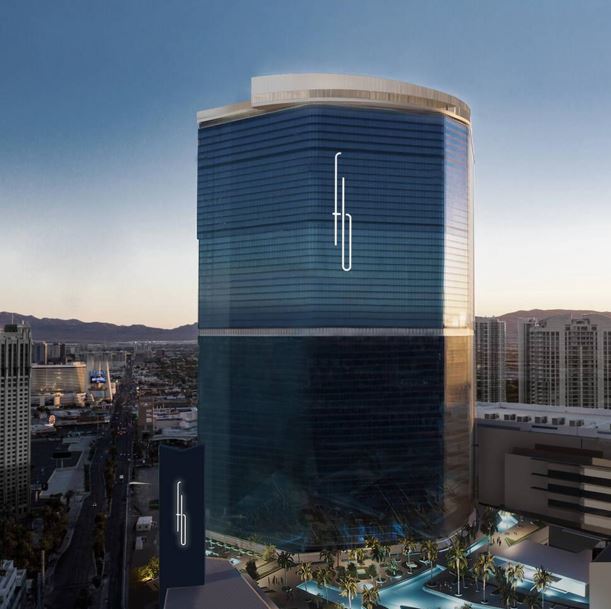 Resorts World Las Vegas
RWLV recently opened in 2021 as a $4 billion integrated resort with a toned-down Chinese theme from Malaysian gaming and hospitality conglomerate, Genting Group. The property is a triple-branded hotel complex with 3 brands, Hilton, Conrad, and Crockfords each catering to a slightly different clientele. The complex features a number of hospitality brands, including a Wallys wine bar out of Southern California, and a variety of shopping options.
One of the centerpieces of Resorts World is the International food hall, which features no national brands, with a strong emphasis on authentic, regional cuisines, all within a handsome "street themed" eating area. Zouk nightclub and the Ayu pool round out the options for entertainment. Resorts World is predicted to sustain over 13,000 direct and indirect jobs. The property represents a major anchor for the northern part of the strip, which is gaining momentum as a hot section with the upcoming Fontainebleau Resort, the Majestic hotel, the revitalized Sahara hotel, and the $2 Billion convention center expansion.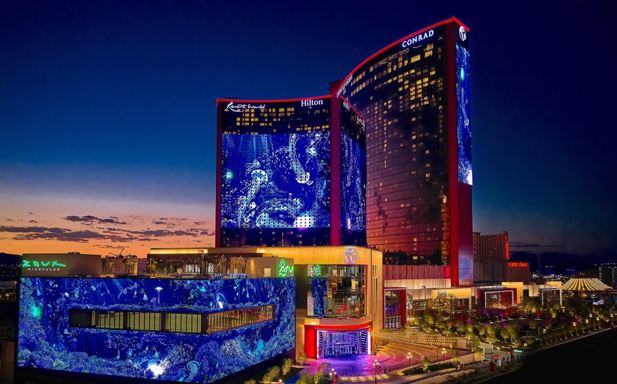 MSG SPHERE ARENA
The MSG Sphere will be a brand new, state-of-the-art entertainment venue. On the inside, the Sphere will show off the latest audio and video technology to a crowd of 18,000 people. It will have a 160,000-square foot screen that will wrap around the bowl. The Las Vegas Sands Corporation is partnering with MSG and is spending $75 million to build the dome. Previous Governor Brian Sandoval added the city's return will be 10 times greater. "It's going to create an estimated 3,500 jobs during the construction and then 4,400 permanent jobs thereafter for an annual economic output of $730 million for our economy," he said. The former governor added the project will generate more than $7 million in tax revenue for Clark County public schools.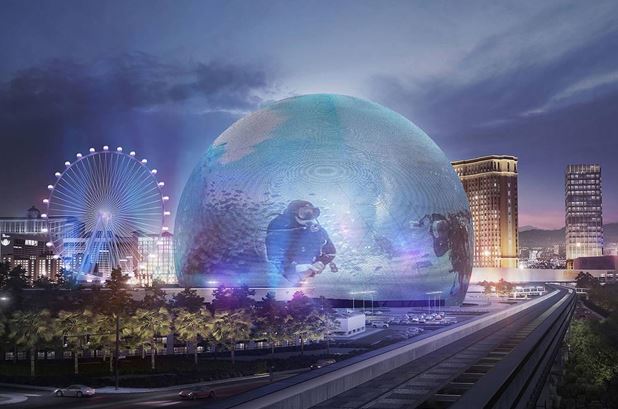 LAS VEGAS CONVENTION CENTER $2 BILLION EXPANSION
The Las Vegas Convention Center District Project is a major expansion and renovation of the Las Vegas Convention Center to accommodate current customer needs and capture future trade show opportunities. Situated on the site of the former Riviera hotel, the expansion section opened in 1Q 2021. The expansion included a 1.4 million-square-foot building that includes 600,000 square feet of new exhibition space at the northwest corner of Paradise Road and Convention Center Drive.
The new expansion also features a first with Elon Musk's Boring Company tunnels featuring autonomous Tesla vehicles as an underground transportation system that saves convention attendees some 20 minutes of walking time from one end of the convention center to the other.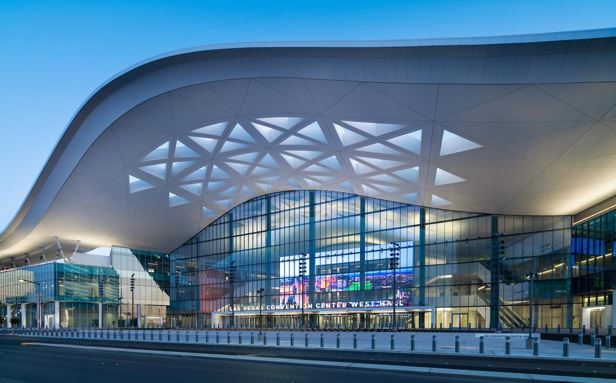 ALLEGIANT STADIUM
Allegiant Stadium finished construction in late 2020 for the 2020-2021 season for the Las Vegas Raiders. The $2 Billion ground up construction project across 62 acres west of Mandalay Bay at Russell Road Polaris Avenue, just west of Interstate 15. The stadium features robust year-round programming including concerts, and hosting games for the UNLV Rebels football team of the University of Nevada, Las Vegas (UNLV). In addition to the stadium being built, the Clark County commissioners recently finalized a general plan for a Stadium District surrounding the venue, which will upzone many streets nearby to accommodate mixed uses and entertainment options pre, and post-game or event. The document can be found HERE.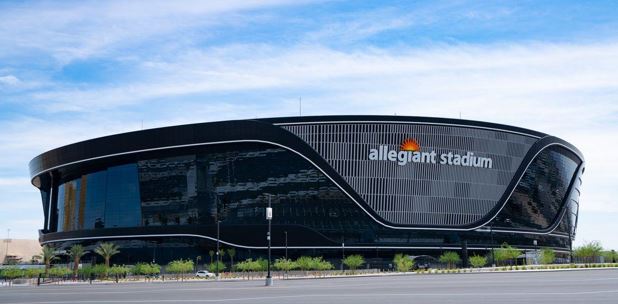 CIRCA RESORT & CASINO
The 777-room resort and casino in downtown Las Vegas opened in December 2020 to great fanfare. A project of Detroit dealership owner turned casino maganate Derek Stevens, at 44 stories, the property is the tallest Las Vegas hotel north of the Strip. Circa includes the longest outdoor bar on the Fremont Street Experience, five restaurants, a supper club at the top of the building called the Legacy Club, a two-level casino with one of the largest sportsbooks in the world, and the now well-known year-round operating Stadium Swim pool deck. Circa signifies the first highrise hotel to be built in decades in Downtown Las Vegas amid renewed interest in revitalizing the busy tourist promenade.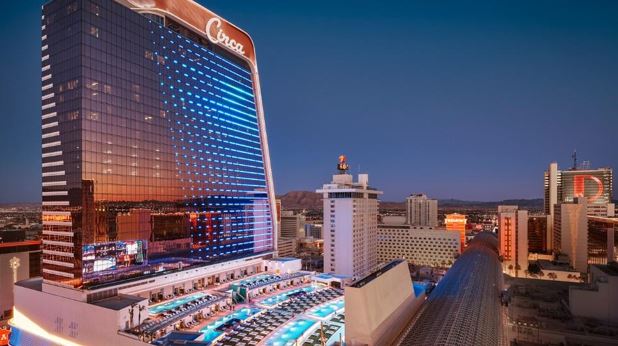 DREAM HOTEL
From developer Shopoff Properties out of Southern California, the Dream hotel flagged resort property will feature a modern glass façade and will be located in close proximity to the airport and the southern part of the strip, being constructed on Las Vegas boulevard, across from the Bali Hai golf club. The property will feature 450 rooms and is set to open in 2023.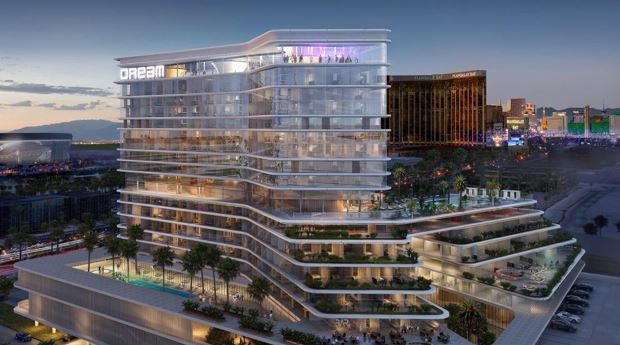 MAJESTIC HOTEL
The first of its kind non-gaming, non-smoking, ultra luxury resort to be developed by Lorenzo Doumani's Majestic Resorts and designed by renowned architect Paul Steelman, the Majestic Hotel will feature a branded 720 suite five-star hotel, six freestanding restaurants, 270,000 square feet of Corporate Sky Suites, and an all-encompassing medical wellness spa and fitness facility. The $850 million, 620-foot-tall contemporary building is scheduled to commence construction in early 2022 and should be completed in 2024, with Sky Suites Sales to begin Fall 2021.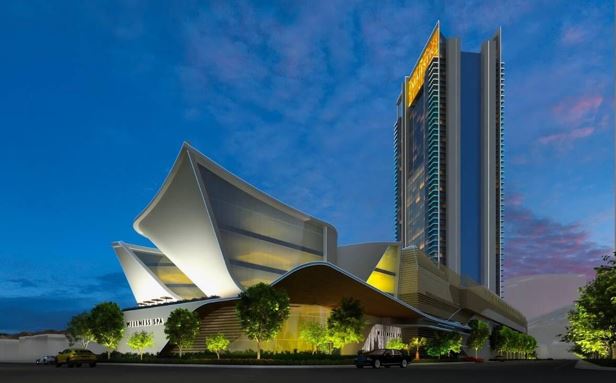 STATION CASINOS DURANGO HOTEL
The forthcoming property, which will be built on a 71-acre parcel at Clark County Road 215 and Durango, is expected to bring additional traffic and business to the southwest valley.
The property's official name will be "Durango, A Station Casinos Resort." The approximately $750 Million budget will go towards a modern façade and hotel tower, and restaurant and entertainment amenities on par with Station Casinos' other flagship properties, Green Valley Ranch Resort and Casino, and Red Rock Resort and Casino.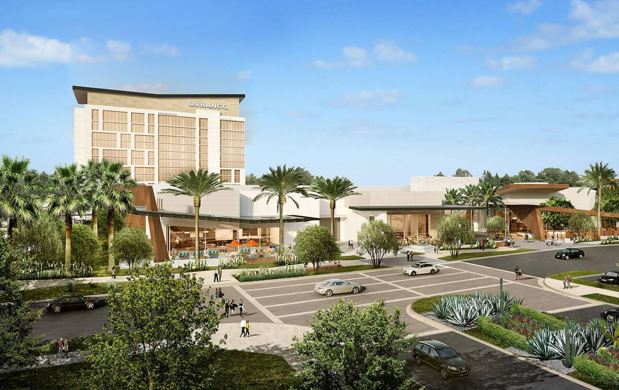 CAESARS FORUM CONFERENCE CENTER
The $375 million, 550,000-squarefoot Caesars Forum conference center recently opened at the beginning of 2021 near the Linq Promenade. Walkways connect the center to The Linq Hotel, Harrah's and Flamingo. The space features 300,000 square feet of meeting space and a 100,000 square foot outdoor plaza.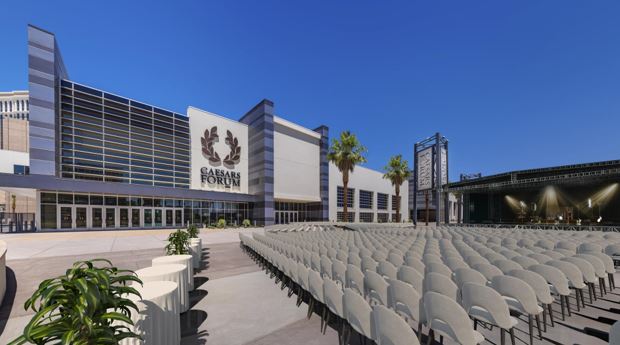 Virgin Hotel
The renovations to the original Hard Rock Hotel which has been re-branded as the Virgin Hotel Las Vegas were finished in March 2021. All 1,500 guest rooms were renovated, and the property features a 60,000-square-foot, expanded casino floor. In addition to a remodeled casino floor, 5 new restaurants were added as well as a new sports bar concept.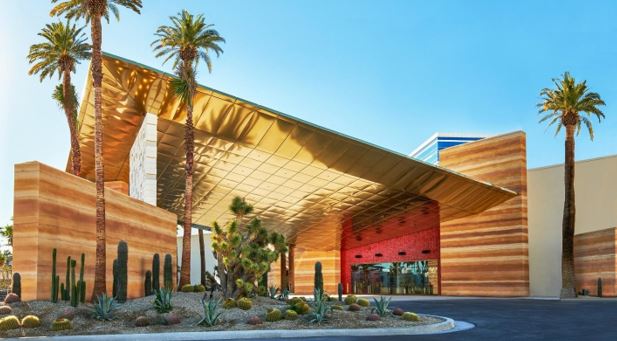 Downtown Las Vegas Expo Center
The $90 million, 315,000-square-foot facility opened in the summer of 2020 and provides exhibit space for the biannual World Market, as well as trade shows and community events.
The center now includes nearly 195,000 square feet of exhibit space that can accommodate up to 1,000 booths. Previously, World Market Center was a showroom-only pavilion of 5 million square feet, but the addition of the Expo Center allows the complex to host general conventions, which will be a boon to the Downtown Las Vegas economy.
THE ENGLISH HOTEL – ARTS DISTRICT
Celebrity chef Todd English has partnered with Marriott hotels to bring the 74 room boutique hotel to the Downtown Arts District with developer Z Life. As the first purpose built hotel in the rapidly changing 18b arts district, the property features a modern, minimalistic aesthetic, a pool, and the Pepper Club, a seafood restaurant. The hotel signifies the maturation of the Arts District as a destination for entertainment.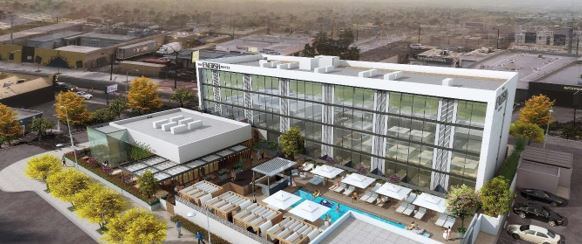 AC HOTEL BY MARRIOTT
The AC Hotel by Marriott, or a "comparable brand," is set to be built on the corner of Grand Central Parkway and Symphony Park Avenue, near The Smith Center for the Performing Arts. Las Vegas city officials said in 2019 the 406-room, six-story hotel was to to open in the summer of 2020, but the project has been delayed due to the pandemic and other issues. It would include a restaurant, a fitness center and 20,000 square feet of meeting and retail space.
Estimated costs are $95 million.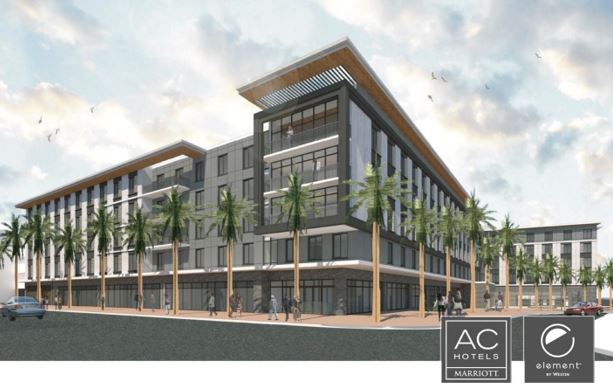 WYNN CONVENTION CENTER
The 400,000-square-foot Wynn Convention Center opened in 2020 and is located just north of Sands Avenue and east of the Wynn Las Vegas tower. The complex includes 300,000 square feet of rentable space over two levels, doubling the convention space at Wynn Las Vegas and Encore. The space offers a 20,000-square-foot outdoor events pavilion, a 83,000-square-foot ballroom and a 2,500-square-foot hospitality lounge that includes a video wall that stretches 72 feet.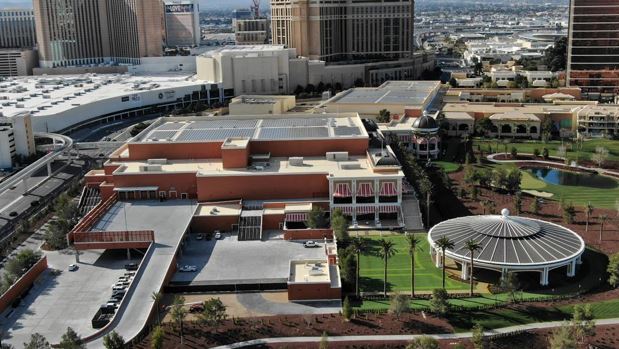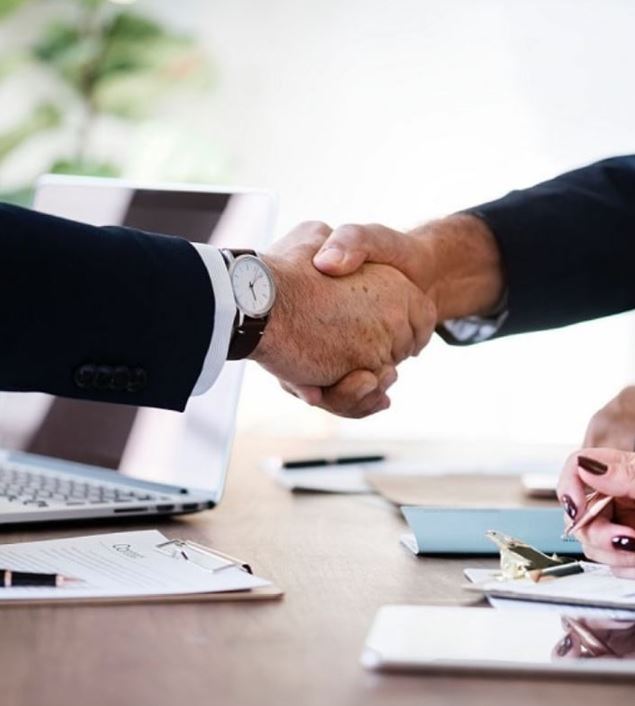 Don't Miss our Newest Deals
Request to be added to our inside List.
The local expert for your global business ambitions.
Let's connect today.